Supporting film & media professionals in Vermont
VPC was established in 2021 by working professionals, to support established and aspiring artists in film production and related fields. We exist to facilitate collaboration, mentorships, networking, and more.
We amplify and promote the work already happening in Vermont while supporting the continued growth and development of the creative industries here.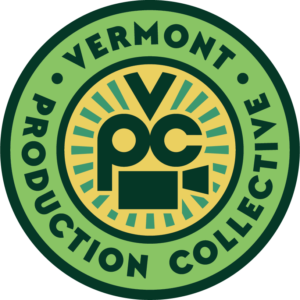 SUPPORT FILM & CREATIVE MEDIA IN VERMONT
H.434: FILM & CREATIVE MEDIA
In March 2023 H.434 proposing the creation of a Vermont Office of Film and Creative Media was introduced to the VT House Commerce & Economic Development Committee.  This bill would delegate the coordination of film & media in Vermont, as well as authorizing the research of incentives which would make it more inviting to film in Vermont, as well as promoting and supporting local media companies and professionals.
The bill will likely come up for vote in the 2024 legislative session, so if you want to see more support for film & creative media then: 
H.434 is the result of extensive research conducted by the Vermont Film and Media Industry Task Force, including consulting with multiple state film commissions, consulting with local professionals (including Vermont Production Collective), conducting two community listening sessions, and analyzing data from various incentive programs.
Getting it done in Vermont
Panel discussion on homegrown fundraising for fiction & documentary
Chittenden County Filmmakers Meetup
Partnering with Fair Share Films to host a monthly networking meetup for Burlington-area media makers
Douglas-Lanahan Award Recipients
VPC was deeply honored to be awarded the inaugural Douglas-Lanahan award for outstanding contribution to the community through film.
More Info
Lunafest
Hanging out with our friends from the Media Factory to support female filmmakers at Lunafest
Summer Screening Series
Outdoor community event in downtown Montpelier, Summer 2022
MHFF: Filmmakers' Reception 2022
Hosting the filmmakers reception at Made Here Film Festival's first in-person fest.
VCET Female Founders
Partnered with Vermont Center for Emerging Technology to produce a panel discussion about women in media
On Instagram we share news and work samples from local creators, whether their audience is local, national, or worldwide. Follow to see the wide variety or work created locally and tag @vtproductioncollective to have your work featured!